For the second year in a row, Sunset Heights Meadery attended the Mazer Cup near Denver, Colorado. This international mead-making competition involves several events — judging of commercial and home competitions, a mead mixer with the public for charity, a meeting of the American Mead Makers' Association, and an award ceremony at the end of the weekend.
This was John's second year attending the Mazer Cup and Elwyn's first year; both of us loved the events, and learned a great deal!
AMMA Meeting
The American Mead Makers' Association, one of the first events of the weekend, covered a great deal of ground. This annual meeting went over many legislative issues that don't affect us, including US regulations on production and labeling, but for international meaderies and US meaderies alike, the 2nd Annual Mead Industry Report covered many important findings.
The mead industry has expanded dramatically even since the 1st Mead Industry Report. There are 42 new meaderies, with many more in the planning processes. When you compare the 7% increase in wineries in the US in the same period, this represents a significant 18% increase in wineries making mead or meaderies. In fact, 29% of meaderies reporting their numbers in the survey had been open for one year or less, showing the youth of the industry as a whole. The burgeoning industry of mead is one we're proud to be a part of!
Meaderies were also asked about their most popular styles of mead (melomels, made with fruits, and traditionals, made with honey and water, were the two most popular categories), where they get honey from (62% of meaderies use local honey), and the number of jobs created (the average meadery had 2.3 employees in 2012, 3.3 in 2013, and 3.4 in 2014). Where sales in meaderies had grown 32% between 2012 and 2013, they grew 42% between 2013 and 2014, while production increased 128% last year. This shows the potential for the craft beverage marketplace to accept mead as Fredericton-area craft beverage drinkers have already started to do!
Mead Mixer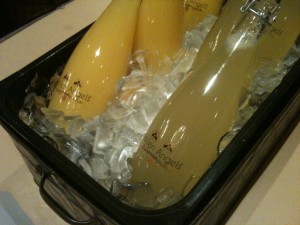 This year, a public event was held with tickets sold and a portion of the proceeds donated to a Denver-area charity. The mixer included appetizers and socializing space, but more importantly, access to dozens of meaderies pouring their products. Most meaderies were represented by the head mead maker or an employee of the meadery, creating unique opportunities for people to discuss the specifics of mead with the people who know it best, including several of the top meaderies in the country as well as smaller meaderies and international meaderies like us.
While John manned the table and poured a lot of samples for the public and for other mead makers, Elwyn was thrilled to be able to make the rounds of the room and meet many of the top mead makers. The range of meads offered was stunning — from hydromel (session) meads to sack meads, sweet to dry, styles from Tej to metheglins, aging done in barrels or post-fermenting fortification. Another real treat was being able to talk to the public about mead without explaining the basics of mead first — launching straight into explaining how Pollen Angels is made from a 7.5% cyser and then made into MeadMosa and Apeel, the two expressions we were pouring; meanwhile Sunset Heights' still meads we were pouring included a melomel and two hopped cysers.
We also paused to mark the moment our last bottle of Sunset Blues, our gold medal-winning mead from the 2014 Mazer Cup, was emptied, followed shortly afterwards by our last bottle of Honeycone, our silver medal-winning hopped cyser from last year. Hopefully sometime soon these meads will be put into production once more, but for now, they're off the market!
Commercial and Home Judging
The competition element of the Mazer Cup is split into two days and two separate competitions — a commercial and a home portion. In the commercial competition, judged on Friday, judging is more intense with three judges assigned to each team (each team always has one more experienced lead judge), none of whom can be involved in that category at all. The category's entries are split into two to four flights, depending on how many entries there are, and each team judges a flight of approximately six to nine meads. They get the details about the honey used, any special ingredients, and the mead's category (still, petillant, or sparkling; dry, semi-sweet, sweet; hydromel, standard, or sack). Each judge scores the meads on everything from clarity to technical proficiency and the final scores have to be within ten points of each other; if they aren't, judges explain their reasoning to the other judges until the judges agree to move their scores up or down.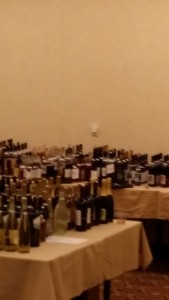 Then, each group chooses two or three meads to push into the second round, the mini-BOS (mini-best of show) round. This round is led by three judges, typically the lead judges who were working with each group on that flight. The scores are irrelevant now, and it's simply a beauty contest between each of the meads that was pushed into the mini-BOS round (usually about six to eight). Judges sample one at a time, eliminate meads that show technical flaws or that don't illustrate the category well enough, and come up with the final three meads standing. Then, they discuss the meads to see which should be awarded gold, which gets the silver, and which is the bronze.
John and Elwyn judged a broad variety of meads, mostly semi-sweet, in the commercial competition. For Elwyn, this was an excellent first exposure to the incredible breadth and quality of meads out there, and Elwyn's palate developed rapidly under the expert advice given by the lead judges. Elwyn now understands the difficulty John was talking about in choosing favourite meads given the incredibly high quality of the vast majority of about 300 total entries in the competition!
That day, John had the opportunity to judge in a mini-BOS round with his mentor, Michael Fairbrother, and one of the event's organizers, a great experience for him!
The next day, in the home competition, the competition is slightly less intense with two judges (an experienced lead judge and a less experienced judge) paired up in each team and roughly the same number of meads to judge overall. The home score sheet looks a little different, as home meads are judged on a different 50-point scale compared to the commercial 100-point scale.
Elwyn was grateful to be invited to participate as a judge in a mini-BOS round with two of the most experienced mead judges out there, Vicky and Pete, who were generous with their expertise and made the experience less terrifying than it first seemed! Meanwhile, John worked on another mini-BOS in the other judging room.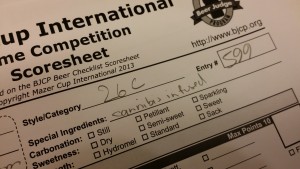 The highlight of the home competition was probably a mead made with cannabis, which was a running joke among the table's judges given that many of us had never tasted the substance which is now legal to add to mead in Colorado. When it finally came around, John and the other judge working on this mead were assisted by a judge more experienced in this taste, and apparently, it was representative of the herb!
Both of us were so appreciative of the coaching and guidance in how to identify particular tastes, tasting notes, and time shared with the lead judges we worked with. We're also grateful for the stewards who did such a fantastic job running meads from the bottle rooms (where the labelled bottles are kept) and the rooms where the meads are judged blind, calling for more meads, providing water and crackers, and keeping the mood light and the sessions moving throughout the day.
We were thrilled to learn afterwards that three of our meads went through to the mini-BOS session and the rest received high scores in the 80s and 90s, many of these scores from experienced judges in the BJCP and mead categories!
Awards Ceremony
After a fire alarm caused the building to evacuate, it was time to get ready for the awards ceremony — an elaborate affair with dessert and mead and lots of applause!
When all was said and done, we walked away with a silver medal for second place in the competitive "Session Mead – Sweet" category. Many of our friends and acquaintances walked away with medals, too, including our mentor Michael Fairbrother from Moonlight Meadery in New Hampshire who took home an astounding three golds, one silver, and one bronze medal!
Meaderies from all over the world took home medals, and the competition was especially fierce in some categories. This is why Session Mead has now been broken down into three categories (sweet, dry, and semi-sweet), because it's nearly impossible to judge these different types of session meads in a crowded category and be fair to all three types! Next year may see even more categories, if the sheer increase in entry numbers is any indication!
This was another fantastic opportunity to meet and talk with mead makers from all around the world and congratulate them on their successes. Several home brewers walked away with well-earned medals, too, and it sounds like more of them will move into the commercial categories next year.
All in all, it was a fun-filled weekend with a lot of learning (Elwyn particularly appreciated the palate-expanding judging sessions and learning to think critically about different aspects of every individual mead), networking (John got to talk to many meaderies from the US and internationally), and tasting! We look forward to the announcement of the dates for the 2016 Mazer Cup.