About Us
Our company history, what we're doing, and why we love mead.
Sunset Heights Meadery and Apiary is a cottage meadery located in McLeod Hill, New Brunswick. We produce small-batch, artisanal, limited-edition meads on a seasonal basis using fresh, local, and often hand-picked ingredients. We are comprised of three divisions: the apiary and two meadery divisions.
The apiary is a symbiotic enterprise striving to support and help grow the population of local food pollinators which, in return, provide us with delicious honey. In our meadery divisions, we combine NB honey and other local agricultural products to create two lines of mead, Sunset Heights still meads and Pollen Angels carbonated session meads.
We're a family business first and foremost, started by a husband-wife duo: John Way and Deb Wilson. They share the responsibilities for these three divisions; John takes care of mead making, while Deb handles the beekeeping. Each assists the other when needed.
John likes to say that Deb is the head beekeeper, so when she says anything about bees, he says, "Yes, ma'am!" He's the head mead maker, so when he says anything about mead, she… well, ignores it (and is usually right).
Sunset Heights Meadery was licensed in October 2013. Since it takes time to make good meads, we released our first meads nearly a year later. In late 2014, we launched our series of sparkling session meads, Pollen Angels, while continuing to develop and age our still meads under the Sunset Heights Meadery brand.
Our meadery won two medals at our first Mazer Cup in 2014 with our meads, Honeycone (a hopped cyser) and Sunset Blues (a blueberry melomel). In 2015, our second year attending, we won our first medal for Pollen Angels. 2016 saw us sweep the Session Sweet category with Pollen Angels and win all of the top spots. With these outstanding results, we continue to innovate and produce new meads.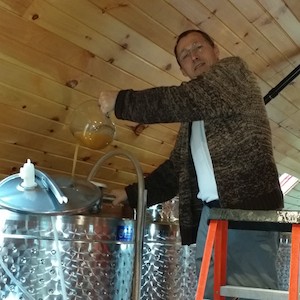 John Way
Head Mead Maker
John is the head mead maker at Sunset Heights Meadery. He is responsible for developing our recipes, producing new batches, aging, sourcing fresh local ingredients, and more. He began brewing over twenty-five years ago, and soon afterwards, began to develop a wine-based drink (which would later become a mead-based drink and evolve into Pollen Angels) for Deb to drink. He continued producing craft beverages at home and several years ago, discovered the mead revival. After learning how to make mead from some of the top mead makers in North America, John launched Sunset Heights Meadery.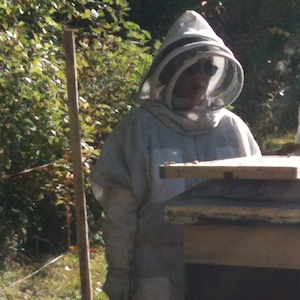 Deb Wilson
Head Beekeeper
As head beekeeper, Deb manages the apiary at Sunset Heights. She is in charge of everything bee-related. For example, Deb ensures the bees have sufficient foraging materials such as flowers for nectar and trees for sap. She relocates hives if necessary, checks them periodically for disease or problems, and studies modern beekeeping techniques to find the most gentle and humane ways for us to coexist with our bees. She also manages the gardens and plants that feed our bees.