Product Description
Arthur's Mischief…
When life gives you a Hurricane, make a Spruce Tip Mead!
July 5th, 2014 ~ Post Tropical Storm Arthur hit our property and took down scores of beautiful trees. Unfortunately, a few of those trees also destroyed our hops crop for the year eliminating our plan for an "Estate Wet Hopped Mead".  One of those trees had kilos of bright green, soft spruce tips.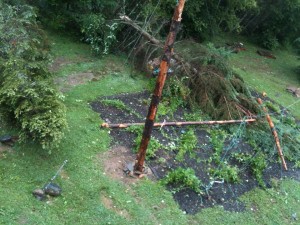 On July 5th, 2015 ~ Arthur's Mischief Cyser is released, with a bright spruce tip aroma and flavour, balanced with some delicate wildflower honey notes and apples.